Tanzania is a vibrant and diverse country teeming with natural beauty and incredible wildlife.  From the iconic "Big Five" animals to many rare species, Tanzania is the perfect destination for those looking to explore the majestic wonders of nature. Safari tours provide visitors with a unique opportunity to observe this stunning wildlife in its native setting, taking them through some of Africa's most spectacular parks. Here's an overview of five popular safari locations in Tanzania where visitors can take in the flourishing flora and fauna.
Tanzania – Why should people visit?
Tanzania has a wide range of attractions that will appeal to any traveller, whether they are interested in nature or culture. Along with beautiful India Ocean coastlines, travellers can explore snow-capped mountains, lush national parks, and frequent seafaring adventures. The country also has a rich cultural heritage – from centuries-old rock art sites to traditional tribal villages – as well as modern amenities such as bustling cities like Dar es Salaam, Zanzibar City and Arusha. When it comes to wildlife viewing, a Tanzania safari has everything from welcoming locals to an abundance of  animal habitats throughout its vast expanses, providing unforgettable experiences for all who come here for safaris or other adventure activities.
1. Serengeti National Park
The Serengeti National Park is one of Africa's most famous locations for game viewing, located in northern Tanzania. From July to October, up to two million animals migrate through the park on their annual circuit, which is one of the world's largest terrestrial mammal migrations; making it an exciting time for visitors looking for that authentic African experience. Other activities available include nature walks or cultural visits to nearby Masai villages.
2. Ngorongoro Conservation Area
The Ngorongoro Conservation Area is located approximately 200 km from Arusha, making it an ideal destination for those wanting to combine safari trips with city experiences. Famous for  its volcanic features and array of resident wildlife varieties such as zebras, lions, elephants, and cheetahs that roam the area year-round. It has been designated as a UNESCO World Heritage Site due to its importance ecologically, both in terms of scientific study and in providing refuge to endangered species such as black rhinos and Lesser kudus. It's common for visitors here to see animals while walking along trails or enjoying scenic views from overlooks across the crater floor.
3. Tarangire National Park
Tarangire National Park boasts a diverse terrain, featuring both acacia forests and swamps alongside its rolling savannahs. It's home to herds of wildebeest, zebras, and elephants in great numbers during the dry season (June-October). Its attractions include Elephant Pool – where plenty of pachyderms cool off during hot days and Tanzanian baobab trees that are believed to adopt animal shapes over time due to erosion caused by wind patterns in this part of Africa. During the hot months (November-May) Tarangire is generally quiet so perfect for more private game-viewing experiences focused mainly on walking safaris through peaceful bushland areas where one can expect sightings of gazelles, hyenas or baboons living among larger families of elephants beneath tall trees filled with colourful birds.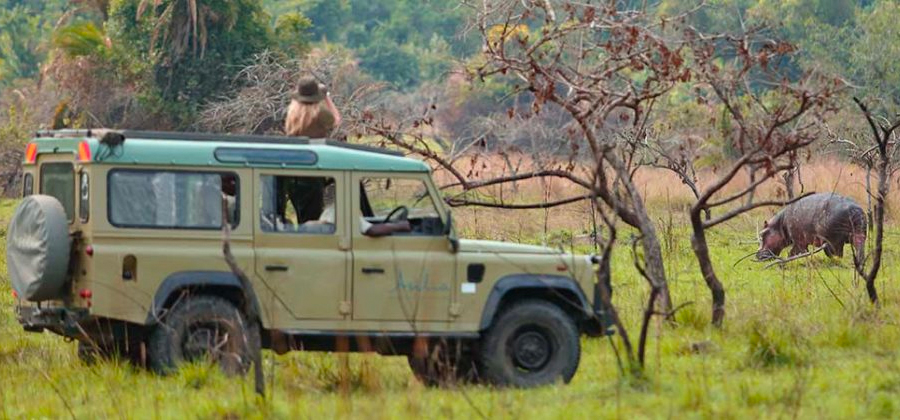 4. Rubondo Island National Park
Rubondo Island National Park lies south of Lake Victoria near Mwanza City in Tanzania, around 200 km away from Dar es Salaam, making it an easily accessible yet remote corner to see many rare species. These include chimpanzee reservations and bird sanctuaries. The Savannah grasslands, which stretch far out over blue waters teeming with hippos and crocodiles, invite visitors to join guided tours via game drives or canoe safaris to explore these unique ecosystems rich in life.
5. Mikumi National Park
Mikumi National Park lies between Morogoro City (190km) and Dar es Salaam (245km), acting as a gateway point towards markets further north in Tanzania's interior regions populated by Mozambique's African Elephants roaming freely across vast open grasslands. This beautiful landscape is filled with the sound of various bird calls and is home to buffaloes, impalas, giraffes, and wild dogs.
A safari in Tanzania is an adventure of a lifetime. With its stunning landscapes, diverse wildlife, and rich ecosystems, the country offers plenty for the avid explorer to explore. From the majestic Serengeti in the north to the lush jungles of Selous National Park in the south, there's something for everyone. Whether you're looking for breathtaking sunsets or an unforgettable encounter with one of Africa's iconic species, Tanzania has it all. So if you're ready for an unforgettable experience, take a journey through Tanzania's flourishing flora and fauna on your next safari!